Nashville cops hunt rogue Saint Nick
Nashville cops are hunting a rogue Saint Nick who on Tuesday robbed a SunTrust Bank because "Santa needed to pay his elves", as the perp explained to staff.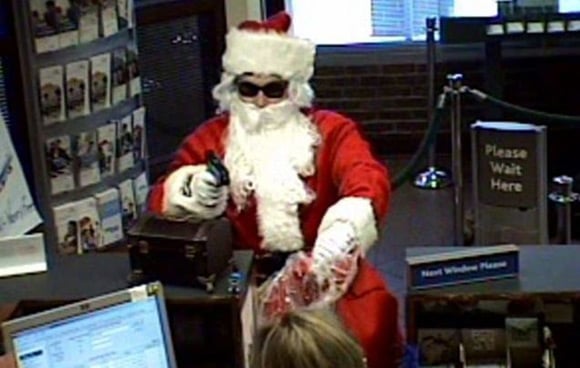 According to AP, a bank clerk asked the seasonally-costumed customer to take off his sunglasses, but instead he "reached into his sack and pulled out his gun". Santa then demanded money and informed staff that if they put dye sacks in the cash he'd return and "kill everyone".
He then made good his escape with an undisclosed booty.
Police spokeswoman Kristin Mumford admitted it was "the first time a Santa suit has been used to pull off a robbery in the area in recent years", explaining that the clothing of choice is usually "sweatshirts and sunglasses or a Halloween mask".
source:http://www.theregister.co.uk/2009/12/24/santa_stick_up/